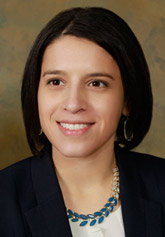 Monica Vela-Vick
Baton Rouge
2431 South Acadian Thruway, Suite 600
Baton Rouge, LA 70808

(225) 923-3462
mvela-vick@hamsil.com
Contact by Email »
Monica Vela-Vick was born and raised in Corpus Christi, Texas. She is a graduate of Rice University (B.A., 2004) and the University of Michigan Law School (J.D., 2007), where she served on the Editorial Board of the Michigan Journal of Gender and Law and as Chair of the Latino Law Students Association (LLSA). Ms. Vela-Vick is conversant in Spanish. She is a former law clerk to the Honorable Donna Woelpper of the Philadelphia Court of Common Pleas. During her tenure as a law clerk in the family division, she routinely sat as a dependency master (hearing officer), issuing proposed findings of fact and conclusions of law for judicial approval. Monica is an associate at Hammonds, Sills, Adkins & Guice.
Ms. Vela-Vick is admitted to practice in Louisiana, Pennsylvania, and New Jersey. She handles primarily civil litigation defense, insurance defense, public school law, and workers' compensation matters. Monica began her legal career as an Assistance City Solicitor in the City of Philadelphia Law Department's Child Welfare Unit representing the Philadelphia Department of Human Services in child abuse and neglect cases. In that capacity, she sharpened her oral and written advocacy skills while tackling a demanding caseload. Beyond her practice in family court, she also successfully defended the Department of Human Services in administrative hearings for child abuse expungement before the Bureau of Hearings and Appeals.
Ms. Vela-Vick has demonstrated a commitment to community service matters. She was a student attorney in the University of Michigan Law School's Child Advocacy Clinic and has previously worked at the Louisiana Coalition Against Domestic Violence, the Women's Law Project (Philadelphia), and Women Against Abuse Legal Center (Philadelphia). For four years, she coordinated a mentoring program for at-risk children, and in law school she regularly volunteered as an elementary school tutor. Since relocating to Baton Rouge from Philadelphia, Ms. Vela-Vick has been an active participant in Teen Court of Greater Baton Rouge and serves as Vice-Chair of the Teen Court Committee through the Baton Rouge Bar Association. She is a member of the Baton Rouge Bar Association Mock Trial Committee and was appointed by Chancellor Jack Weiss to serve on the LSU Law Center's Diversity Task Force. Monica is a member of the American Bar Association, the Louisiana State Bar Association, the Baton Rouge Bar Association, the Wex Malone American Inns of Court, and the Baton Rouge Association of Women Attorneys. She was a member of the 2013-2014 Leadership LSBA class. Ms. Vela-Vick is located in the Baton Rouge office.
« Back to the Attorneys Page