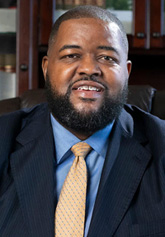 Alejandro R. Perkins
Managing Partner
Baton Rouge
2431 South Acadian Thruway, Suite 600
Baton Rouge, LA 70808

(225) 923-3462
aperkins@hamsil.com
Contact by Email »
Perkins'
Areas of Practice
Dr. Alejandro Raeshod Perkins, fondly known as "Al", is a native of Dallas, Texas. He earned his undergraduate degree in Political Science from Xavier University of Louisiana in 1999, and his Juris Doctorate from Southern University Law Center (SULC) in 2004. After a two-year judicial law clerkship for the Honorable Judge Wilson Fields at the 19th Judicial District Court, he joined Hammonds, Sills, Adkins & Guice law firm. Al is a litigator specializing in complex litigation, general liability, labor and employment, and education law and in January 2013 became the youngest partner of the firm. In January 2022, Al became the firm's Managing Partner.
Al was a member of several legal teams, with cases valued at over $400 million. In the past, he has served as a court-appointed Special Master. Al is in his 7th year of teaching Trial Advocacy as an adjunct professor at Southern University Law Center. He was recently selected by Chief Federal Judge Carl Stewart to receive a Bolch Multi-District Litigation Certification from Duke University Law School. Al is a current Fellow of the American Bar and Louisiana State Bar Associations.
Al's value system is strongly rooted in service to others. Through his active involvement in local, regional and national legal societies, he has been able to use his personal achievements as a vehicle to inspire others. From 2015-2016, Al served as the National Bar Association's Deputy General Counsel, appointed by President Ben Crump. He served two terms as the President of the Louis A. Martinet Legal Society - Greater Baton Rouge Chapter, National Bar Association Director of Region V, which includes Texas, Louisiana and Mississippi, and multiple terms on the Board of Governors for the National Bar Association. In December 2017, he was inducted to The 100 Black Men of Baton Rouge and is currently serving on the Board of Directors.
In July 2016, Al was appointed by Gov. John Bel Edwards to the Board of Supervisors for the University of Louisiana (UL) System. Six months later, Al was selected by his fellow board members to serve as Chairman of the Board, and recently completed a two year term as the youngest Chair in the history of the board. The UL System is the 18th largest higher education system in the country with over 92,000 students and 9 universities including: Grambling State University, Louisiana Technical University, Nicholls State University, Northwestern State University, McNeese State University, Southeastern Louisiana University, University of Louisiana-Lafayette, University of Louisiana-Monroe, and the University of New Orleans. The Board is responsible for an $800 million annual operating budget, and Al has overseen three university president searches - Northwestern, McNeese and Nicholls State Universities during his tenure as chair.
Al has had the distinction of being recognized by both of his Alma Maters, Xavier University and Southern University Law Center. in 2015, Xavier University recognized Al as a Top 40 Under 40 for his vast accomplishments and service to his professional community. In 2013, Southern University Law Center honored Al as a Distinguished Alumnus in recognition of his professional and unwavering commitment toward ensuring others have access to education. He received the National Bar Association President's Leadership Award in 2012, 2016 & 2018. In 2017, he received the Trailblazer award from Alpha Phi Alpha Fraternity, Inc. In 2018, The 100 Black Men presented him with the Community Empowerment Award. Al's proudest accomplishment is receiving his Eagle Scout from the Boy Scouts of America.
Al has been featured as a keynote speaker for various organizations and programs across the nation, including as a commencement speaker for Northwestern State University in 2017, Louisiana Tech University in 2018 and The Executive Leadership Council's 2018 Winter General Membership Meeting's panel on higher education.
In addition to his leadership in the legal community, Al is National Annual Fund Chair for Xavier University, and Vice President of the Xavier University Alumni Association - Baton Rouge Chapter. Al believes in paying it forward, and is a strong financial supporter of Xavier University, Southern University Law Center, Bishop Dunne Catholic School, Alpha Phi Alpha Fraternity, Inc., Delta Sigma Theta Sorority, Inc., Grambling State University, UNCF, NAACP, and Good Street Baptist Church, to name a few.
On May 10, 2019, Al received an Honorary Doctoral Degree from Grambling State University in recognition of his service to higher education, leadership and service to the community.
Al is a proud lifetime member of Alpha Phi Alpha Fraternity, Inc., and is a member of the Masonic Lodge. In his spare time, he enjoys spending time with his wife, Dina, and daughters, Alexia and Zaiya, listening to great music, developing business ideas and offering his time and talents to inspire our youth. He is a faithful member of New Gideon Baptist Church. His desire is to bridge the philosophical divide between yesterday's history makers and tomorrow's leaders and innovators.
View all Attorneys