Alvarez's
Areas of Practice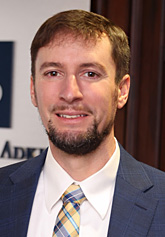 Evan M. Alvarez
Partner
Baton Rouge
2431 South Acadian Thruway, Suite 600
Baton Rouge, LA 70808

(225) 923-3462
ealvarez@hamsil.com
Contact by Email »
Alvarez's
Areas of Practice
Evan advises private and municipal clients in multiple areas, including construction law and litigation, government contracts, governmental affairs, public finance and public school law.
A life-long learner, Evan, in 2008, earned both a Master of Business Administration from Louisiana State University's E.J. Ourso College of Business and his Juris Doctorate from the Paul M. Hebert Law Center. He did his undergraduate work at LSU as well, graduating in 2004 with honors and earning a BS in Construction Management.
After graduating from law school, Evan served as an attorney for the State of Louisiana's Division of Administration, Office of General Counsel. During his practice with the State, Evan represented various state offices in construction, public bid, procurement, administrative appeals, and governmental affairs matters.
On January 1, 2014, Evan joined Hammonds, Sills, Adkins, Guice, Noah & Perkins as an associate. He is a member of the Louisiana Bar Association, Baton Rouge Bar Association, and the Baton Rouge Bar Association's Construction Law Section. In January 2023, Mr. Alvarez was named Partner of the firm.
He also serves as a volunteer firefighter with the Bayou Sorrel Volunteer Fire Department. In 2012 he was elected to serve as president of the department and served in said capacity from 2012 to 2022. He currently serves as the City Attorney for the City of Port Allen.
View all Attorneys